June 1, 2020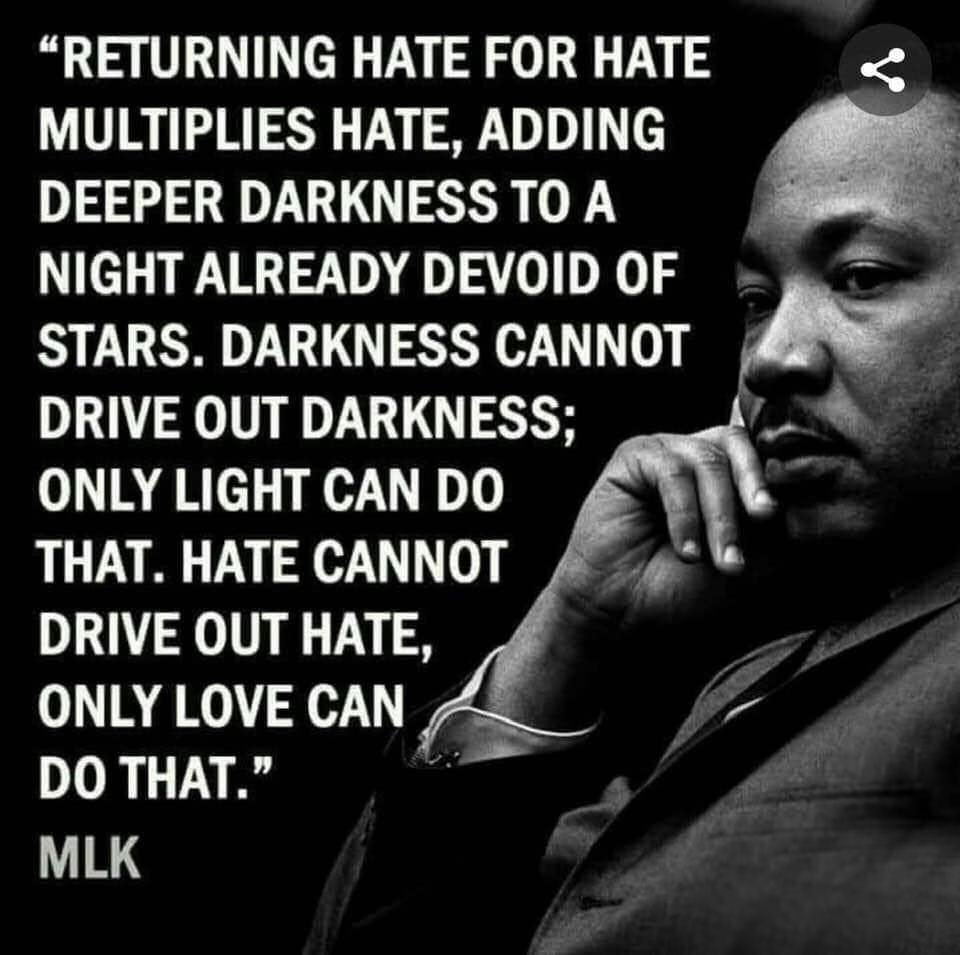 To the New Providence Presbyterian Church Family,
Our hearts are heavy today. In the last week we have seen the full weight of human brokenness on display. It started with an injustice when George Floyd's life was taken and the black community's worst fears about racism and police brutality were confirmed once again. The graphic video of George Floyd's killing left every sensible person disturbed and deeply grieved.
In times like these I often feel helpless as to what to do. Deep in my bones I know that I have to say this is wrong, and with one voice we in the Body of Christ all need to say this is wrong. We have to say that we are so sorry to our brothers and sisters who live with this kind of fear and pain on a daily basis. George Floyd's killing was an evil that should not have happened.
As followers of Jesus this is a time for lament and grief, going to God with our pain, going to God with our own sin, knowing that God, too, weeps at our injustice. Portions of Psalm 6 come to mind:
Have mercy on me, Lord, for I am faint;
heal me, Lord, for my bones are in agony.
My soul is in deep anguish.
How long, Lord, how long?
Turn, Lord, and deliver me;
save me because of your unfailing love.
Among the dead no one proclaims your name.
Who praises you from the grave?
I am worn out from my groaning.
We want to unite with people of goodwill all across the nation and stand with them as we grieve together the sin and brokenness of our world. To come together to listen, to mourn, to say, "This isn't right." This is not the only step but it is an important first step. More steps will follow.
George Floyd's death touched on deep racial wounds that have been here all along. His death is not an isolated incident and revealed once again the ugliness of systemic racism in our society. It sparked a national outrage – and we should be outraged at the way he was brutally treated and killed. People took to the streets with legitimate cries of protest, and we all need to affirm the rights of people to peacefully protest injustice.
But tragically, the legitimate protests were quickly hijacked by agitators who had nothing to do with the protest for George Floyd - left-wing anarchists, right-wing fascists and common criminal – who lit fires, looted stores and promoted violence. This is also an evil that needs to be called out.
I was impressed by reports of how the white police chief of Camden, New Jersey preemptively contacted the protest organizers in his city and offered to march with them at the head of the line, because he, too, was against police brutality and racism. There was no rioting in Camden partially because of his good leadership. A similar thing happened in Newark. That is a great example of how we can come together and do it the right way. We can and must separate legitimate protest from violent rioting. The Evil One would like nothing better than for white people to close their eyes to the realities of racism in our society because of the bad actions of a few agitators who are dedicated to violence and chaos.
Christian author and speaker Jennie Allen, who has a black son adopted son from Rwanda, put it this way in a Facebook post:
The win for the enemy today...
Would be for us to be consumed with the looting.
The work of the church is…
To not miss this opportunity to love.
To not miss the voices that have been crying out for too long. 

To not miss Jesus' heart for those grieving and suffering. 

To not mourn with our brothers and sisters who are afraid.

To pick up the fight beside the many who are protesting peacefully.

To not turn the other way because this is messier than we wish.

To not speak before we listen.

To not lose the hope of Jesus Christ to heal our land as we turn from sin.
While there are no easy answers we must recognize that the reconciling work of Christ needs to be ongoing for a very long time. In the midst of COVID-19 and the pressure cooker of our quarantined society, we still need to promote the welfare of our nation and pray and work for peace. Pray that we might walk in Jesus' way of love and do all we can to turn the nightmare of our world toward the healing light of his grace.
Jeff Ebert
Senior Pastor
May 27, 2020
Dear Church Family,
This coming Sunday is Pentecost – the Birthday of the Church when God poured out the Holy Spirit on the apostles and launched them into the public proclamation of the Gospel.
The first Christians approached that day by asking Jesus a lot of questions. Their main one being,
"Lord, are you at this time going to restore the kingdom to Israel?" Acts 1:6
I think we approach this current Pentecost with a lot of questions and a lot of concerns as well.
When will the church "re-open? How will it work? Is it safe? What about the children?
So many questions and concerns, and each person comes at these complicated issues with his or her own perspective.
This graphic is a pretty accurate depiction of what I have been experiencing these past few weeks.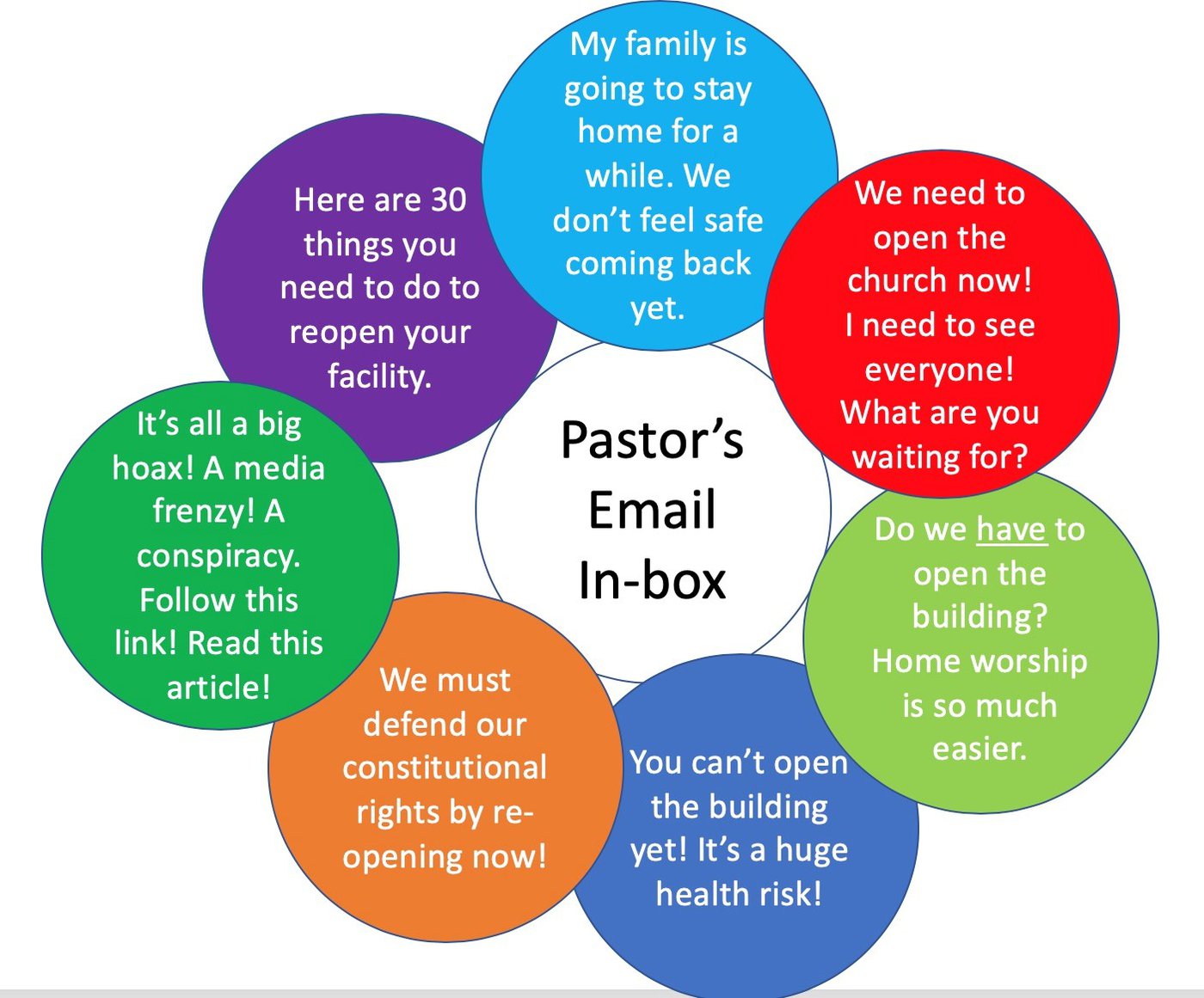 Lots of questions and lots of concerns.
In this Sunday's message I am going to attempt to address some of the most important issues facing our church family as I talk about Future Church. I hope you will join in our online worship and be part of what our Future Church will be all about.
Our mission hasn't changed. Our methods must.
Jeff Ebert / Senior Pastor
You can access our online worship Sunday at 9:30 AM or 11:00 AM
This is the link to live services thru our webpage.
This is the link for Facebook live-streaming worship.
Coming Up
Sunday, June 7 will be Caring Ministries Sunday where we highlight the ministry of our Deacons and the other aspects of caring ministry that go on in our church community. This service is always a highlight of the year where we celebrate how we follow Jesus' command to "love one another." Don't miss it.
Then, Sunday, June 14 is Student Sunday. Our high school seniors didn't get their normal graduation ceremony but we are still going to highlight their contribution to the life of the church. In order to accommodate all the speakers we will add two services on Saturday night, June 13 as well as our regular two services on Sunday morning (9:30AM and 11:00AM). Sixteen seniors will give short sermons as other students lead the rest of each service. All the senior's sermons will be online following the services so you can watch them all. We are very proud of all of our seniors! What an impact they are already making for Christ.
Boxes of Hope
Because of your donations over 100 local families have received Boxes of Hope. We are accepting donations Tuesdays, Thursdays, and Saturdays between 10AM and 2PM at NPPC. For a list of acceptable items to donate, click here. These items will then go into a locked room for 72 hours to ensure they are safe for distribution. ​
If you would like to help but are unable to donate items or volunteer, you can also give online to help us purchase items for the boxes. Click here ​to give and please be sure to designate Boxes of Hope. ​You can also use the same link donate to the on-going mission of your church.
If you are in need or know someone in need of a box, please fill out this form or text RELIEF to 908.650.8444. All requests are confidential.
Thank you for financially supporting the on-going mission of your church.