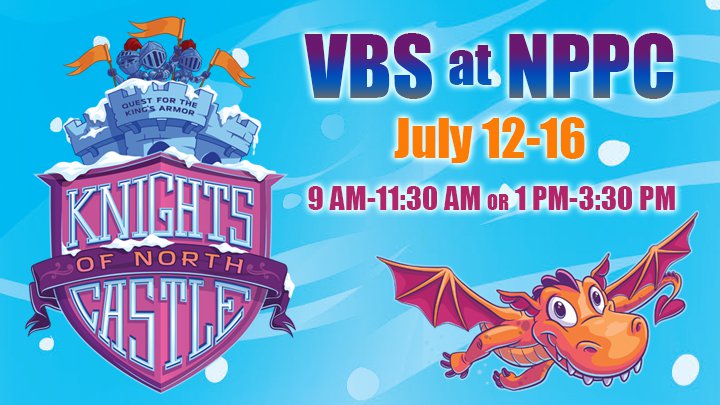 Knights of North Castle VBS at NPPC - July 12th-16th (9 AM-11:30 AM OR 1 PM-3:30 PM)
Children ages 4 years-old (by 9/30/21) through 6th Grade are invited to join us at New Providence Presbyterian Church for "Knights of North Castle" VBS where children will learn to "Armor Up and Be Strong in the Lord!" Join us as we transform our church into a kingdom castle filled with Bible stories, crafts, music, STEM, missions, rec, and more. This year we will take extra precautions (and will follow state health guidelines). To keep our VBS class sizes smaller we are offering 2 sessions (you pick one): 9 AM-11:30 AM OR 1 PM-3:30 PM.
Registration will begin Tuesday, 4/6/21 at 11 AM (click on this link at 11 AM) and the cost will be $30 per child (please note that we are unable to accept American Express). Here is the link to register (but remember—the link will work at 11 AM, no sooner). See special Covid Information (below)
NPPC VBS (July 12th-16th) Registration Link (Link Accessible 4/6 at 11 AM)
For more information call Christine Voegeli at 908-665-0050 (ext. 23) or email her at cvoegeli@thecornernj.com. Please register early (to ensure our child a spot). We hope to see your child at VBS '21.